The best CPU cooler for i7 9700k is the cooler that keeps it cool irrespective of your workload and CPU speed. If you are in the market for such a cooler, you are in the right place, because we know the best coolers that you can use.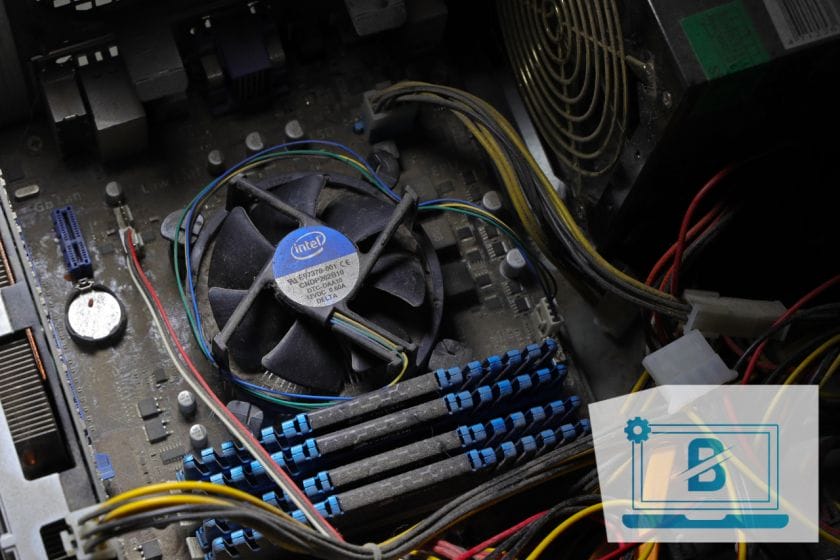 In this article, we took our time to identify four CPU coolers that will cool, and work with your i7 9700k.
Keep on reading, by the end of this article, you will select the best CPU cooler that will fit your PC and lifestyle.
Comparison Table
The 4 Best CPU Cooler for I7 9700K Reviews
The comparison table was an introduction, now, we'll get into more details. All the information that you'll learn will have an impact on your final selection, so, read on.
Pros:
Fast CPU

water cooling

Five years warranty

Three fans powered by Magnetic Levitation technology

Software management via iCUE software
Cons:
Expensive

Only the pump has RGB lighting
The Hydro H150i PRO RGB AIO liquid CPU cooler is a family of the Corsair Hydro series. It has three 120 millimeters fans powered by Magnetic Levitation technology, so they can stand the test of time. That's because the fan bearing has no direct contact with the shaft during operation. So, there is no friction, and you'll hear no noise; also, this gives the fans more stability.
What's more, the speed of the fans can increase up to 2,400 RPM for better airflow. With such speed, your i7 9700k will cool down before it overheats during intensive work. This will be the case if you're rendering 3D graphics in Autodesk Maya or exporting 4K videos. Not only that, but if you choose to overclock your CPU, this liquid cooler will give you more headroom to do that.
Most AIO CPU coolers don't have software management, Corsair H150i is an exception. It has a powerful Corsair iCUE software that gives you more control that you'll not see elsewhere. First, you can customize the RGB LED lighting to your taste to produce dynamic multicolor. Then, you can control the speed of each fan; with this, you can fine-tune the speed depending on the workload.
Finally, it has a "Zero RPM mode" that will stop the fans at low CPU temperatures. Corsair provides a modular, tool-free mounting bracket that makes installation easy. This cooling process is so effective because Hydro H150i is among the top liquid coolers. From this, we conclude that the H150i should get 9 out 10 from all its categories because Corsair did a good job to ensure you get the best from it.

Overview: Hydro H150i is an RGB CPU liquid cooler like NZXT Kraken, ELITE CAPELLIX, and EVGA CLC. As a gamer, you'll make the most of it, but ensure you have the computer case for its 360mm radiator. With Hydro H150i, your CPU will not overheat because it is one of the best liquid coolers.
Pros:
Quiet operation

Great cooling performance

100 percent RAM compatibility

Jet Fin acceleration system for better airflow
Cons:
Its big size might be an issue for Small Form Factor (SFF)
CRYORIG H5 Ultimate is where creative engineering meets innovative cooling methods. It has two features that you will not find on any CPU cooler out there. These include the proprietary Hive Fin structure and Jet Fin Acceleration System. Both ensure your CPU gets the best cooling performance that'll match top AIO coolers.
H5 Ultimate can do this because the fins can take in larger air into your system, at the same time they have a narrower air exhaust section. As a result, compressed air will leave your system faster, and in turn, your CPU cools down faster. During this process, the airflow has no interference thanks to the shape of the heatsink. The latter looks like a beehive, and it lowers air turbulence, so the fan can blow out the hot air from the heatsink.
The fan itself is an XF140 Pulse Width Modulation fan with acoustic optimizations. It uses High-Precision Low-Noise (HPLN) bearing and Acoustic Vibration Absorbers that you can remove if needed. With the absorbers, the XF140 fan has a close-fitting, and it cancels vibration and noise. The Heatpipe Convex-Align System provides improved alignment for any CPU, including i7-9700k.
You can install CRYORIG H5 within minutes because it has the multiseg quick mount system that allows secure and firmer installation on your i7 9700k. Also, the asymmetric slanted heat pipe layout moves the heatsink away from the RAM slots on your motherboard. The technology incorporated into CRYORIG H5 is why we've scored it 9 out of 10 for performance and cooling quality. For design, it got 8 out of 10 due to its size that will not fit in SFF PCs.

Overview: The design of CRYORIG H5 Ultimate fits the profile of high-end gamers. It outperforms other coolers like EVO CPU cooler, and you'll get 100 percent RAM clearance. What's more, it's an upgrade over Cooler Master Hyper 212 black edition CPU cooler.
Pros:
Award-winning CPU cooler

Dual high-performance 140 millimeters NF-A15 fans

Unrivaled memory clearance

Industry-recognized NT-H1

thermal paste
Cons:
It's a premium cooler

Heavy, because both fans have their heatsink
The Noctua NH-D15 is a good CPU cooler with good airflow management for your i7 9700k. There is no doubt you'll use your CPU for intensive tasks, with NH-D15, you'll get immediate air cooling. Speaking of the fans, they are two NF-A15 140mm PWM fans, both have a speed that ranges between 300 and 1500 RPM. So, they provide massive airflow for your CPU and the components on your motherboard.
Still on the fans, they operate with zero noise levels, and they follow Noctua's AAO standard. With this, they have top-notch aerodynamic design measures, for example, Flow Acceleration Channels. Both combined, add to the cooling performance of this cooler, even when you are playing a 3D game. The latter is CPU-intensive due to the massive amount of processing during gameplay.
When you check out the build of this cooler, you'll notice that it has six heat pipes. So, this gives your CPU faster heat dissipation before it overheats. This makes NH-D15 an efficient CPU cooler, and only "Dark Rock Pro 4″ comes close. All these features are the reasons this cooler comes out on top for the latest generation of Intel CPUs.
Moving on to memory compatibility, you can use long memory slots while one fan is in operation, and a short one in dual-fan mode. Also, if you choose to overclock your CPI, this cooler will keep the temperature in check. For installation, SecuFirm2 mounting system makes it painless, also, it provides good contact pressure for the CPU socket of your Intel Core i7 9700k. NH-D15 is such an amazing cooler that it scored 10 out 10 from all its categories from us; this includes performance, design, cooling quality and noise levels.

Overview: The Noctua NH-D15 is among the top i7 CPU cooler for overclocking gamers. It's heavy because each fan has its heatsink, and you can use it as a CPU cooler for i7-10700k. Besides, it holds the top spot among air CPU coolers because it gives you a quiet CPU operation.
Pros:
Solid performance

Impressive MSI build quality

Extra fan clip for an extra fan

Good and welcoming aesthetics
Cons:
Short warranty

Can overhang a DIMM slot
MSI has a reputation for high-tech motherboards and GPUs, this CPU cooler is no different. It's called "Core Frozr L" for a reason because of its solid performance that'll match other air coolers. It has a single 120 millimeters TORX fan with Hydro-dynamic bearing and Pulse Width Modulation (PWM). Both, combined with the optimized fan blades, ensure the fan can reach up to 300,000 hours of usage.
What's more, the fan can spin up to 1,800 RPM, so that hot air can get out faster. By doing this, your CPU will remain cool, and motherboard components will not get damaged as well. But, you can increase the airflow and get double efficiency because there is an extra fan clip. This means you can add an extra fan to this cooler if you need more cooling.
The additional fan allows you to do more work on your i7 9700k because more fan means more cooling. Still, the cooling prowess of this cooler does not stop there, thanks to the design of the heatsink. It's an asymmetric design with four heat pipes made out of Copper, which is a good conductor of heat. As a result, it will absorb heat at a faster rate from your CPU to keep it within temperature limits.
Now, for the design, like every MSI product, it has the illuminated MSI logo on top. Then, the smart base allows space for a Graphics Processing Unit (GPU) in the first PCI-e slot. It comes with a thermal paste, color-coded anti-vibration fan mounts, among other accessories. MSI did a good job on Core Frozr L, still, it scored 8 out 10 in all its categories from us.

Overview: MSI Core Frozr L is the best air cooler if you already have an MSI motherboard and graphics card in your gaming PC. Although it looks like an i7 9700k low profile cooler, it's better than Cooler Master Hyper 212. What's more, if you need more cooling, you can attach an extra fan using the extra fan clip.
Buying Guide
With all the information that you've learned so far, you'll need help with your final selection. In this section, we present the best cooler that's more than a budget CPU cooler like Cooler Master Hyper 212.
What Are the Benefits of Noctua Nh-D15?
It's an industry-recognized CPU cooler and well-known for its unmatched cooling performance. It will stand the test when compared to AIO coolers that have a high thermal conductivity. Still, when you search online for the best cooler for a specific Intel CPU, NH-D15 is always among the list. The following shows the benefits that make it among the top CPU coolers in the world:
Two cooling towers with six heat pipes

Memory compatibility in single fan mode

Two NF-A15 Pulse Width Modulation fans

SecuFirm2 Mounting System

Wide fin stack and more heat pipe layout
Most CPU coolers that you'll come across, for example, Dark Rock Pro 4 cannot match NH-D15 in all categories. All the features above make it a good cooler for any new processor out there. Besides, Noctua (the makers of NH-D15) have a reputation for efficient coolers. This cooler is no different; it has better airflow, so heat leaves your CPU very fast.
The airflow is what you'll need if you're a user that always loves the best from a CPU. As a result, you'll need every ounce of speed from your processor to complete your tasks. This means two things; increased processing speed that'll exceed the recommended stock speed. And two, increase heat because every computer component generates heat from excessive usage.
In situations like this, you'll need a CPU cooler to keep your CPU in check. Without it, you're at risk of causing damage to the CPU and motherboard components. With NH-D15, this risk reduces to zero; because when you have it installed, your CPU will remain cool. You'll confirm this when you read the thorough analysis detailed in upcoming sections.
Key features to know
NH-D15 is among the top processor coolers in the market; we explained that earlier, and this section is another step and proof why it's the best. We'll get a bit technical, but we'll walk you through our conversation using simple terms that will not confuse you.
– Two Cooling Towers With Six Heat Pipes
A notable feature of NH-D15 is the dual tower, designed for good heat dissipation. Most air coolers out there have a single tower; so they will not perform like NH-D15. These cooling towers ensure NH-D15 has more surface area for heat distribution. What's more, they provide more airflow that allows your CPU to cool down before it overheats. All these features combined ensure that your CPU will get better cooling efficiency.
– Memory Compatibility in Single Fan Mode
The ability to use tall and short memory sticks is good news from any CPU cooler, and NH-D15 does not disappoint. But, it comes with a twist; you can use tall memory sticks while the fan is in single fan mode. These memory sticks should measure 64 millimeters; a feature of high-end memory sticks. However, in dual-fan mode, you'll need a memory stick that has the standard 32 millimeters height. Either way, if you have tall or short memory sticks, this cooler will not prevent you from using them.
– Two Nf-A15 Pulse Width Modulation Fans
NF-A15 fan has zero noise levels and follows Noctua's Advanced Acoustic Optimizations standards. It's a premium fan, and you'll only find it on a premium cooler like NH-D15. To make it more interesting, NH-D15 has two of these fans, and they can spin up to 1,500 RPM. Combined with aerodynamic design measures, CPU overheating is a thing of the past. Finally, they have Pulse Width Modulation that ensures their stability.
– SECUFIRM2 Mounting System
Noctua went the extra mile to ensure you get the best CPU mounting during installation. The SecuFirm2 Mounting System is world-class, and it's known for its quality. Also, it's safe to use, and it makes the whole installation process easy. Besides, it provides good contact pressure for your CPU and better heat absorption. That's because the cooler will fit very well, but you should not tighten the screws too much.
– Wide Fin Stack and More Heat Pipe Layout
The fin stack in a CPU cooler is the biggest factor that determines how well it will allow heat to leave your CPU. That's why Noctua ensures that NH-D15 has a wide fin stack having a width of 150 millimeters. This provides a large surface area for heat distribution, and it gets better. The heat pipes have spaces between them, so they provide uniform heat distribution. A combination of the wide fin stack and the heat pipes layout gives NH-D15 an edge over other CPU coolers.
Conclusion
This article explained the best CPU cooler i7 9700k can use for efficient cooling. If you don't keep the temperature of your i7 9700k in check, it is susceptible to permanent damage. If you want a cooler with a good reputation, it's NH-D15 from Noctua. But if you are a high-end gamer, it's H5 Ultimate from CRYORIG. MSI Core Frozr L will be your choice if you already have an MSI motherboard and graphics card.