How long does Newegg take to ship? You might wonder about the same while placing your order on Newegg. So, this article will help you in clearing your confusion and discuss various details about the Newegg business.
Keep reading to know about Newegg's shipping time, order status, history, pros, cons, and much more.
How Long Does Newegg Take to Ship?
Newegg takes one to two business days to process your order before shipping. Once the deliveries are scheduled, three to five business days are required for the deliveries. For major appliances, it can take seven to 10 business days. However, rural areas need up to 13 working days.
How Does Newegg's Shippment Work?
However, Newegg's order processing time is 24-48 hours. Ninety percent of the orders ship the same day when placed. Then, the ship will arrive within your selected Newegg shipping option time. Newegg consignment helps you to get your products as soon as possible.
No matter how large the volume of is, Newegg ensures to ship in a short time.
What Are the Different

Shipping Options

by Newegg?
The different shipping options by Newegg are:
UPS guaranteed three days

FedEx guaranteed three days

Newegg two days (UPS/FedEx)

Newegg one day (UPS/FedEx)

Large items delivery

Egg server shipping (DHL/UPS/USPS)

APO/FPO shipping

Local Express 

Will Call

ShopRunner
– UPS Guaranteed Three Days
This option ensures that you'll get your product delivered within three working days. The product will be shipped via UPS Ground if UPS agrees to make the delivery to the specified address within three days.
However, you can not use this option to ship the products to Alaska, Hawaii, or Puerto Rico. In such a scenario, you'll be allowed to choose either UPS Ground or UPS 2nd Day. Note that the cheapest option will be selected if you set the UPS before entering your Hawaii, Puerto Rico, or Alaska address. This way, you'll be charged the least possible amount.
– FedEx Guaranteed Three Days
FedEx 3Day Express Saver ensures delivering your product within three business days. However, you aren't allowed to enter a shipping address of Hawaii or Alaska while using the given option. Here, only FedEx 2Day would work for you. Yet, you won't be informed about the exact delivery time.
Now, if you want to get the product shipped to Puerto Rico, then FedEx International Economy will be a feasible and only valid option for you. In case you enter an address in Hawaii, Puerto Rico, or Alaska before setting the option, the option will be set by default to the valid value, and you'll have to pay the charges accordingly.
– Newegg Two Days (UPS/FedEx)
Newegg 2 Day (UPS/FedEx) ensures that the product is delivered within two business days via either UPS or FedEx. By default, your order will be confirmed with the least expensive option, and you will be required to pay the charges according to the same.
– Newegg One Day (UPS/FedEx)
Newegg 1 Day (UPS/FedEx) is known for the quick delivery of products within one business day only. The product will be delivered via either UPS or FedEx. By default, the least expensive option will be chosen for your order, and you will be asked to pay the charges for the set default option.
– Large Items Delivery
Large Item Delivery or White Glove Delivery will be made within three to five business days via CEVA or AIT. Similar to the above options, you can't have large products delivered to your place in Hawaii, Alaska, or Puerto Rico via CEVA or AIT.
Moreover, a signature of an adult will be required to certify that the delivery has been accepted at the specified destination.
– Egg Server Shipping (DHL/UPS/USPS)
Opting for this option will set the delivery time to four to seven business days. Here, the order will be picked from the warehouse by UPS Mail Innovations or DHL Global Mail. Next, it will be sent to USPS, which will be responsible for its delivery at your door. In rare cases, UPS service might be used, but this won't affect the delivery time or charges.
This option does not apply to ship-to addresses in Alaska, Puerto Rico, Hawaii, or APO/FPO at present. Furthermore, note that you can not use this option for orders that weigh one pound or more. If you attempt to set the given option for one pound or heavier orders, then the shipping option and cost will be changed to a suitable value. 
Also, remember that Egg Server Shipping is not supported by all warehouses and items. Thus, you'll be notified about the missing support at the time of checkout.
– APO/FPO Shipping
Getting your products shipped through APO/FPO Shipping will increase the delivery time to around two to six weeks. Here, it would be beneficial to note that you can not get 19 inches or larger monitors shipped via the given option due to military APO/FPO box size. Moreover, please avoid putting DVDs in your cart because they also won't be shipped via the given option. 
– Local Express 
The Local Express option works best for same-day delivery in a limited area. The delivery is done via Dynamex Inc. You'll have to place the order by 12 p.m. for New Jersey and Tennessee facilities. However, if you want to place the order in the California Office, then you'll need to place it by 9:30 am.
If you follow the given timings, then you'll get your order delivered before 8 p.m. locally. In the other case, you'll receive the product the next working day. In case you place an order on Friday, but after the specified time, then you should expect your order to be delivered on either the next working day or Monday, considering the earliest possible time. 
Note that Newegg neither processes orders on the weekends nor should you expect them to be delivered on Saturdays and Sundays.
But what if your order gets delayed? It can happen due to any problems or processing issues at the warehouse. In such a situation, you'll receive an email informing you about the delay in the order delivery time. Thus, you won't be left uninformed waiting for your order. Once you receive the order, an adult's signature will be required to certify that you have received your product. 
Please consider that a pre-paid check order won't work with Local Express. 
– Will Call
You can use the given option for the same-day pick-up facility. The time to place the order is 3:30 p.m. locally, from Monday to Friday. If you get late, then you'll be welcome to pick up the order the next business day after 12 p.m.
After placing your "will call" order, you'll receive an email that reads "Ready to Pick Up." Now, if you don't pick up your product within seven days of the said email, then your product will be added back to the stock and refunded.
Don't forget to take the physical copy of your "Will Call Order Pick Up Slip" and Photo I.D. with you when you go to pick up your order. Plus, your signature is a must.
– ShopRunner
Using the two days shipping option will make the delivery time as quick as two business days. Also, you'll find this option feasible when you want to get your order shipped to only a physical address in the United States. Here, the orders can be easily delivered to Hawaii, Alaska, and Puerto Rico as well. Note that the order will be shipped by either air or ground, excluding the carrier-branded shipping services, based on the company's convenience.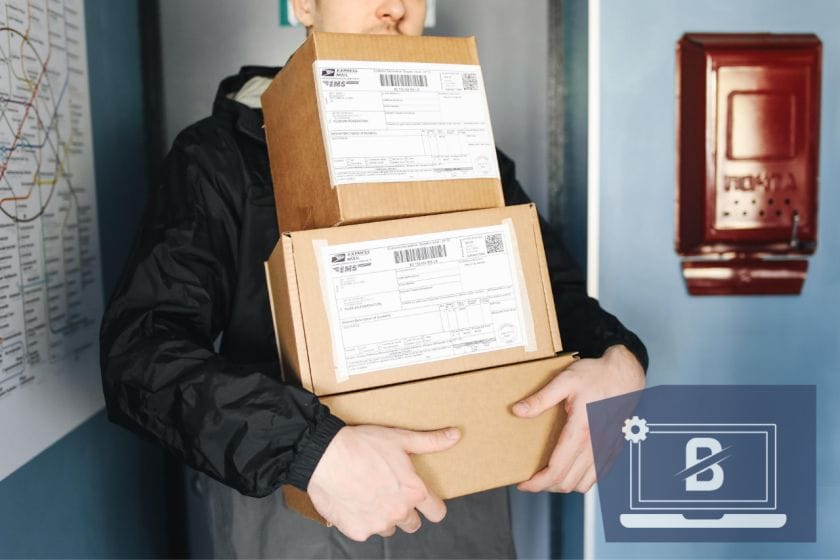 What happens if you try to get the order shipped to a P.O Box or APO/FPO/DPO address? For a straightforward answer, your order will be excluded from ShopRunner.
With all the shopping options discussed above, please expect that the estimated delivery time or delivery date can fluctuate based on different conditions.
Where Does The Company Ship from?
All products from Newegg are shipped from the United States. Once you pay your bill at Newegg, there's no need to pay extra charges when your order arrives at your door. Newegg's shipping makes deliveries safe. FedEx and UPS are the two other reliable shipment methods for Newegg. Furthermore, all the deliveries are made via UPS Second Day and UPS Ground to some regions.
How To Track Your

Newegg Order

?
There's a great need to know that Newegg does not delay orders without any significant reason. The delay occurs due to human error or if the item is out of stock. To monitor the whole process and track your order, a verification email and a Newegg tracking number are sent to you. Sometimes, the courier sends the tracking number, which helps you find the current status of your order.
Follow these steps to know your order status:
Open the Newegg website

Click on Manage Order

Open Order List

Use Advanced Search

Filter by "Fulfill by Newegg" to find the current status of your order
What Is Newegg's

Return Policy

?
New Egg returns the product as long as it is not tampered with. Remember that each product has its return plan, either a 30-day refund or a 45-day return plan with one year to replace. Products returned to Newegg will be subjected to testing. Buyers have to fill out a return form. To make returns easy, Newegg takes the products back free of charge.
How To Return an Item To Newegg?
The return process at Newegg is very simple. Remember that all new or unopened items can be returned within 30 days of purchase. However, if you received a damaged product, report it to Newegg to solve the issue. It'll be considered a return, but the case will be evaluated for a refund.
The most important thing to know is that Newegg does not accept the return of goods bought from third-party sellers. In this case, you have to comply with the return plan determined by this specific seller.
What Items Are Not Returned Under the Return Plan?
Returning items covered by the Newegg Standard Return Plan needs some essential considerations. It is important to know that some products are non-returnable, such as Desktop P.C., Tablet P.C.s, Notebooks, and Televisions with a screen size over 37 inches. It would be best to inspect the product upon delivery.
According to Newegg's return shipping policy, you'll not be refunded if the item arrives under the following conditions:
Products with marking or writings on the original box If the product doesn't correspond to the described reason

Items with a missing, altered, damaged, or unreadable serial or number label, and warranty label

Items returned without original packaging and accessories such as cables, manuals, cables, and all other items included with the product.

Damaged products
What If Your Package Is Missing?
If your package is missing, then you should try to locate it around your shipping address. In case you can't find it and are sure that it's missing, then you should immediately reach out to the Customer Service Department of Newegg.
What If You Find Concealed Damage After Signing?
In such a scenario, you should stop unwrapping the package. Plus, you should not throw away the carton and wrapping materials and keep them safe to claim the damaged product. Next, you should contact the Customer Service Department and report the problem.
What Are the Shipping Payment Methods?
Newegg's shipment common payment methods are listed below:
Newegg Credit Card

American Express

Diners Club

JCB

MasterCard

Discover

Visa

Newegg.com Gift card

Amex Express Checkout

Android Pay

Apple Pay

MasterPass

Union Pay

PayPal

BitPay
FAQ
1. Does Newegg Have a Warehouse?
Newegg has four warehouses in the United States. One warehouse is situated in Memphis, two in southern California, and the fourth one has located some distance from Manhattan. In addition to having over 15,000 product SKUs, the 350,000-square-foot Edison warehouse ships around 40,000 packages a day. Moreover, if you place the order by 3:30 PM, it'll be delivered the same day.
2. Does

Newegg Charge

Shipping?
No, there's no specific rule regarding Newegg's free shipping. Many products on the site offer free shipping within the shipment time. Newegg also offers free return shipments if you find any defective items. Otherwise, purchase a discount on the return shipment.
However, Newegg sends the items to the local P.O. Boxes. Shipping fees for the carrier services are non-refundable if your item is returned.
3. What Countries Does Newegg Offer Shipping To?
The company ships internationally to any country or region, including:
Canada, Germany, France, UK, Thailand, Greece, Finland, Indonesia, Hong Kong, India, Sweden, Japan, South Korea, Italy, Czech Republic, Singapore, Australia, Austria, Belgium, Switzerland, Taiwan, United Arab Emirates, South Africa, Spain, Norway, Saudi Arabia, Africa, South America, Asia, Central America, and the Middle East,
Consider that there are personal shopper services to help you buy from Newegg.
4. What Are the Pros of Working With Newegg Business?
The process of selling with Newegg is so simple. All you have to do is register, list items, and start selling. You can manage all orders as the portal is user-friendly.
Newegg connects you with thousands of customers daily.

There are no commission rates.

No selling fee is charged on Newegg.

Newegg connects you with the customers interested in buying products.

The company allows you to work with dedicated staff.

Newegg also provides warehousing, shipping fulfillment as well as return services.

Newegg provides multiple marketing opportunities to help expand the brand's visibility.
Conclusion
Newegg is one of the renowned electronics eCommerce-based retailers and online shops.
Once the deliveries are scheduled, three to five business days are required for delivery.
Newegg offers the sellers the best opportunity to reach consumers and other businesses.
Each product available on Newegg has its return plan.
Due to the addition of third-party sellers, consumers face refund, shipping, and return problems.
You can expect everything from this high-tech marketplace. Now the types of products sold by Newegg had also expanded.