Keyboard for big hands isn't difficult to find, but the keyboard's variety often leaves you doubtful. Hence, this article contains a list of the keyboards for fat fingers or big hands, along with the unique features of each product.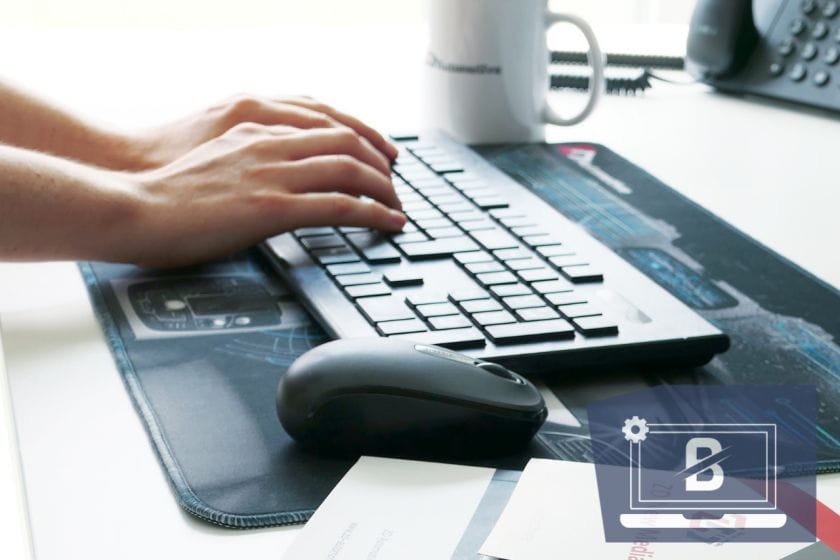 Continue reading this buying guide to get informed about different types of the given keyboard and see which features amaze you the most.
Table of the Best Keyboard Options for Big Hands
Best Keyboards for Big Hands

Why Are They the Best?

Ducky Shine 6

A

full-size keyboard

that contains a customizable RGB backlight, ten key number pad, black switches, and PBT keycaps

Velocifire VM30

Less expensive large keyboard having a backlight with LED, black switches, and a ten-key number pad

iKBC New Poker II

Has an RGB backlight, PBT keycaps, black switches, and a tenkeyless compact layout

E-Element Z-88

Less expensive, tenkeyless compact keyboard with RGB backlight, ABS keycaps, and black switches

AbleNet BigKeys LX

A full-featured keyboard on which every key takes up a space of one inch

Chester Creek AbleNet Vision Board

Less expensive, full-featured keyboard with one-inch square keys and a layout similar to the standard keyboard

Corsair K70 "RGB" MK.2

It's light-weight, silent, has a backlight, and offers a great typing and gaming experience while giving rest to your palm

Logitech MX

Stylish, wireless, and super responsive keyboard that comes with an option to connect with multiple devices and has a backlight

Logitech Ergo K860

It has a comfortable design and palm rest option, and it's easy to set up the same

"Azio" Vision 

Has large keys, large key prints, five different colors of backlight, and makes a loud noise for proper feedback

Redragon K556

It's affordable, beautiful, durable, splash-resistant, and comes with large keys

Razer Ornata Chroma Gaming Keyboard

It has hybrid mechanical key switches, backlit keys, customizable chroma RGB lighting, programmable macro functionality, and removable plush wrist rest

BigKeys

It has one-inch square keys with 11 times bigger text than a standard keyboard which makes it a great product for disabled users

Microsoft Sculpt Ergonomic Keyboard

It has a split keyset and domed design along with a cushioned palm rest

Arteck 2.4G

A wireless, light-weight, and slim keyboard with full-size keys
List of the Best

Keyboard for Big Hands
Here you can read the descriptions of the above-mentioned keyboards for big fingers and large hands:
– Ducky Shine 6
Ducky Shine 6 is a full-size mechanical keyboard that serves the best as a keyboard for big hands because of its Cherry MX black switches. The said switches require a proper push to enter a key. Hence, they are the correct choice for the times when your finger accidentally presses a key that is placed beside the actual one. So, here a little push won't make any difference, and you'll be saved from making any typos.
Moreover, the PBT keycaps make the said product more shine resistant as compared to the ones with ABS keycaps. Furthermore, the given keyboard offers an advantage of the ten-key number pad and the keys for arrows, end, home functions, insert, and delete.
Along with the above features, the solidly-assembled Ducky Shine 6 keyboard has a programmable and customizable RGB backlight which makes it an irresistible large hands keyboard choice. However, the expensiveness of the product is its only and major drawback.
So, if you are not on a tight budget, then give the above product a try. You'll love the overall experience that it has to offer.
– Velocifire VM30
The Velocifire VM30 is the best alternative to the Ducky Shine 6. It has almost the same features as the latter, with the exception of Cherry MX black switches. Note that the given product contains Kailh black switches instead of the MX black switches. Here, the reason behind choosing Kailh black switches is to lower the product's price without making a huge compromise on the quality.
So, you'll get the backlight with LED, full size of the keyboard, ten key number pad, and almost the same keyboard experience as Ducky Shine 6. Plus, buying this keyboard for "big" hands won't feel heavy on your pocket as it's affordable.
– iKBC New Poker II
iKBC New Poker II is a compact regular keyboard as it's 60 percent the size of the regular keyboards. It saves space and lacks a ten-key number pad. However, the given keyboard has macros stored on the same, which makes it a good choice for big fingers.
Similar to the Ducky Shine 6, this keyboard has Cherry MX black switches, but still, it is less costly than the former. A possible reason behind its affordable cost is its compact size. So, you can get iKBC New Poker II as your keyboard for large hands under the range of a hundred dollars.
– E-Element Z-88
E-Element Z-88 is a compact keyboard similar to the size of iKBC New Poker II. So, you'll find it 60 percent the size of the regular keyboard. It has an RGB backlight, ABS keycaps, and the Outemu black switches. It means that you can purchase it at an affordable price as compared to the MX black switch keyboards.
The build quality of the said keyboard is quite satisfactory. It proves to be a good choice for people who want to use a keyboard while enjoying the rigidity of the black switches. Eventually, it will help in avoiding typing mistakes and frustration caused by the same.
– AbleNet BigKeys LX
AbleNet BigKeys LX is a full-featured keyboard offering all functions and punctuations. Although it doesn't include the ten-key number pad, the rectangular one-inch large keys are a unique characteristic of the given product. Moreover, the big keyboard has the keys placed at different locations without the offset, unlike the ordinary keys on keyboards for small hands.
Furthermore, you will find most punctuations added to an individual cluster on the mentioned big keyboard. Here, it would do no harm to consider the AbleNet BigKeys LX the best choice for people with large hands. But the same product might produce difficulties for the ones who are used to the layout of a standard keyboard.
But if you are a quick and passionate learner, then you can easily get used to the extra large computer keyboard within a short time.
– Chester Creek AbleNet Vision Board
Chester Creek AbleNet Vision Board is a full-featured keyboard without a ten-key number pad. You can use it for large sizes of hands, and it is quite easy to use because of its standard keyboard layout. However, you won't find the key offsets on Chester Creek AbleNet Vision Board.
It would be good to note that the stated keyboard has one-inch large keys that support large hands. Additionally, it is budget-friendly and less expensive than the AbleNet BigKeys LX.
– Corsair K70

RGB MK.2
The above RGB mechanical gaming keyboard is made from a brushed aluminum frame. Hence, this keyboard proves to be the best android keyboard for big hands that is light-weighted as well. It comes with a wristband and palm rest. You can enjoy the backlight effect too.
Next, the said gaming keyboard gives you a smooth feel while you enter the keys, and it doesn't make noise. Consequently, the stated aspects make it the best rapidfire mechanical gaming keyboard even against the Razer Blackwidow. So, pick it up as your next gaming keyboard for big hands.
For the drawbacks, the given product is costly, has buggy Corsair software, and a single USB receiver isn't enough for it because it takes up two USB ports.
– Logitech MX
Logitech MX is a beautifully-designed wireless keyboard for big hands. Its ability to connect with multiple devices and keyboard backlights make it an exceptional choice. The large keyboard size is perfect for people with big fingers. It would be good to note that the given advanced wireless technology product offers an excellent typing experience.
However, it has some drawbacks that include a high price and inflexible height. Also, you won't find a palm rest with the said product.
– Logitech Ergo K860
This ergonomic keyboard has a comfortable design that helps you to work for a long time without stressing out your hands. The given ergonomic keyboard comes with a non-removable palm rest. It can work as a wireless and wired keyboard as well. So, the setup is easy.
If you start using ergonomic wireless keyboards, then you won't turn back to the non-ergonomic keyboards.
– Azio Vision Keyboard for Big Hands
Did you just say, "My fingers are too big for my keyboard"? Your concern has been heard.
The above keyboard has large keys with large print. You can depict it as a big keyboard that fills up the entire space on your desk. It is affordable and won't be heavy on your pocket. You can have fun with its backlight too.
However, the given large keyboard makes enough noise. So, you can't use the same in your office. But you can't deny the advantages that it offers to people with big hands.
– Redragon K556
Are you still wondering: "What keyboard is best for big hands?", then try using the Redragon K556.
This keyboard has a backlight and is large enough to fit the fat fingers easily. The best thing about the said product is that it is splash and water-resistant. Thus, you won't need to worry if some water spills from your bottle to the keyboard.
Also, the given product is one of the very comfortable and affordable mechanical keyboards.
– Razer "Ornata" Chroma "Gaming" Keyboard
The stated keyboard gives the best performance with tactile feedback. Moreover, the comfort offered by the plush wrist rest makes the same an exceptional choice. You'll find regular ABS keycaps on the given keyboard.
Along with this, you'll be able to easily execute complex commands while using the said keyboard. Note that the product can take up to 80 million clicks in two years. So, it shouldn't slip away from your list of gaming keyboards.
– BigKeys
The BigKeys keyboard, as represented by its name, is a large key keyboard for disabled users. It has push-button keys of one-inch size with a large, clear text. You won't need to install a driver or software before using the same because it only demands to be plugged into the back of your PC.
Note that the design of the said keyboard is based on that of a standard keyboard.
– Microsoft Sculpt Keyboard
The given type of wireless keyboard comes with a split design that separates the number pad from the keyboard. Its soft palm rest and domed design offer great comfort to the users without leaving their wrists in pain after several hours of working or gaming.
The above product and Microsoft Natural are the perfect combos of both comfort and style.
– Arteck 2.4G
The Arteck 2.4G is a wireless keyboard stainless steel ultra slim that has large keys in a compact design. All that you'll need to do is to connect the keyboard USB with your computer to start using the said keyboard. Plus, you'll be glad to note that this lightweight product comes with a six-month battery life, given that you use the keyboard for two non-stop hours every day.
Conclusion
Using the standard size keyboards frustrates you as you keep on making typing mistakes, but your struggle has got to its end. You won't make any mistakes after reading this article, and here is a list to suggest you the keyboards for large hand sizes from the above article:
You should use Corsair K70 "RGB" MK.2 as an efficient mechanical gaming keyboard for large hands
Logitech "Ergo" is another great choice for big hands due to its comfortable design
Redragon K556 is an exceptional choice because it has a large size and is water-resistant
You are free to choose any product from this post as per your preference. The suggestions have been made according to the unique features of the keyboards.